2023 Chrysler 300C Cleveland TX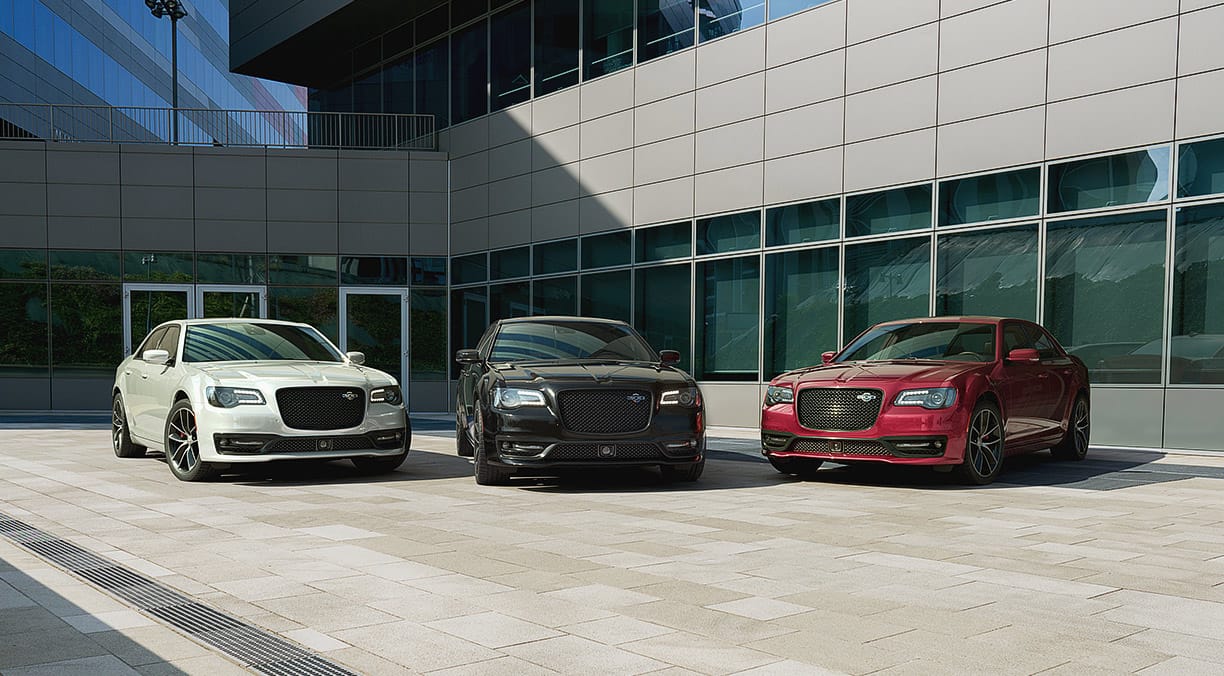 2023 Chrysler 300C Cleveland TX
Buy a New Chrysler near me
There are iconic models up and down the automotive world, but there will always be a special place we keep in our hearts for the Chrysler 300. This is the kind of sedan that has demanded respect, and with such an intimidating stance, it's no wonder that it has survived this long. However, with the introduction of the 2023 Chrysler 300C, this also begins to mark the end of the Chrysler 300. No new model years will come after this, which makes the 300C more important than ever before as a mark of the end of an era. Today we want to tell you more about the 2023 Chrysler 300C, and how it best celebrates everything that the 300 has done for all of the years that it has been sold. We really want this to be a moment that everyone remembers, and we think that's easily accomplished thanks to the ways in which the 300C will stand out from any previous iterations. Chrysler knows how to make a statement, and they know how to leave one, too.
What engine powers the 2023 300C?
When it cames to any vehicle that has long been a beacon of a kind of lifestyle and attitude, it's important that when it is celebrated, it's celebrated right. We're happy to share with you all that the 2023 Chrysler 300C comes with one standard engine that we believe will make the right kind of impact on this sedan. The engine at the heart of it all is a 6.4-liter HEMI V8, which should already be signaling to you that Chrysler is only putting their best foot forward here. This engine has the ability to produce up to 475 pound-feet of torque and 485 horsepower, which are gigantic numbers for a sedan like the 300C, and prove that you will only ever be impressed. We also want to mention stats like going from 0 to 60 mph in just 4.3 seconds, or even covering the quarter mile in 12.4 seconds. That doesn't even mention the top speed of 160 mph, which should surely gain some people's interest. We'll also throw in that an eight-speed automatic transmission rounds out this powertrain.
What other performance features come with the 300C?
You've learned more about the power of the 300C, but what about the kind of performance it can provide you? We know that there are many different aspects of a machine that get it the performance people are searching for. We fully believe that the performance-specific features with the 300C give it that extra pep that it needs. You'll be able to get things like an active damping suspension, an active exhaust, red four-piston Brembo brakes, rounded exhaust tips, and a 3.09 limited-slip differential. These features really do work well for the overall goal of creating a performance-oriented environment.
What does the Chrysler 300C have for features?
Our final deep dive into the 2023 Chrysler 300C focuses in on the different features and design aspects that you should be considering. Beyond all of the different 300C badges that you can find, you'll be able to find things like black chrome accents, all-season performance tires, black bezels, and three exterior color options. We also want to mention tech like Android Auto, Apple CarPlay, a 19-speaker Harman Kardon audio system, an 8.4-inch touchscreen, lane departure warning, advanced brake assist, a heated steering wheel, ventilated front seats, and full-speed collision warning.
2023 Chrysler 300C for sale at Martin CDJR
While it's most definitely sad that the Chrysler 300 model is coming to a close, we can't help but be excited by the 300C. Whether you're fascinated by the HEMI engine, or you just love the style being presented to you, this is a sedan you don't want to miss out on. Stop by our dealership today to get behind the wheel of the right model for your life. There's never a wrong decision to be made when you choose Martin CDJR.