Highlights of the New Ram 1500 TRX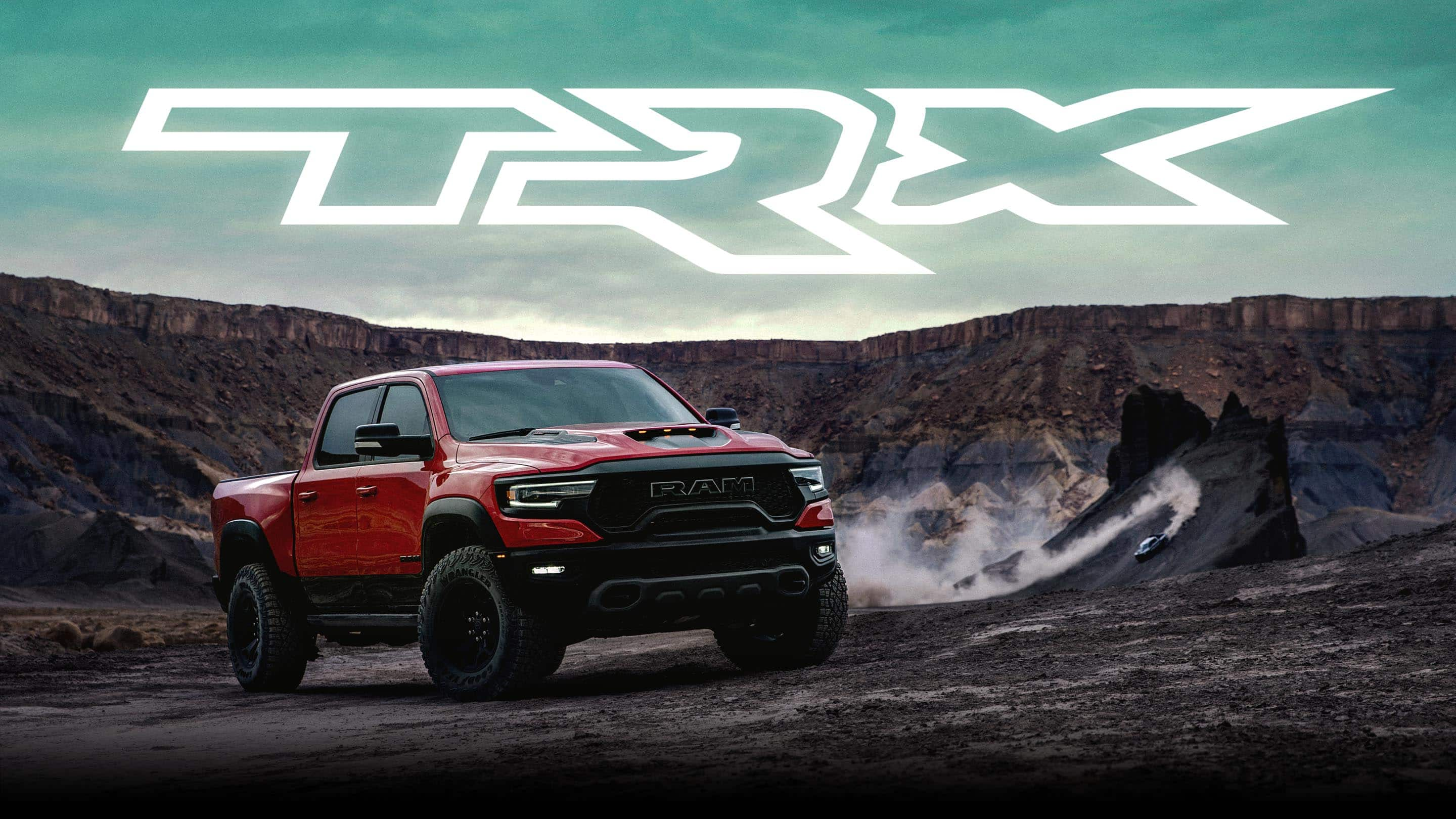 Highlights of the New Ram 1500 TRX
Brought to you by Martin CDJR
The all-new Ram 1500 TRX is unlike any other truck in its class.  It is engineered to be able to handle the toughest, most unforgiving conditions, and of course to outperform all other pick-ups, and it definitely lives up to all of the hype surrounding its release!  Designed with capability and durability in mind, the Ram 1500 TRX sports a new frame that uses high-strength steel to increase low-torsion attributes to amplify stability as well as durability.  Taking truck performance to a new level, the Ram 1500 TRX is equipped with a 6.2-liter supercharged HEMI® V-8 engine that delivers a whopping 702 horsepower and 650 lb-ft of torque! It can take the Ram 1500 TRX from 0-100 miles per hour in just 10.5 seconds! Keep reading below to find out what other exciting features set this pick up so far ahead of every other truck in its class!
Performance
The 6.2-liter supercharged HEMI V8 engine is paired with the high-torque-capacity TorqueFlite 8HP95 eight-speed automatic transmission! This allows the TRX to deliver fast and seamless gear changes during not only normal driving conditions but also performance.  The innovative dual-path air induction system gives the maximum output and delivers a continuous supply of cool, clean air to keep the engine running at its intended maximum capacity.  Compared to the nearest competitor, Ram 1500 TRX is made to stand up to four times the amount of dust in its air filter, which uses a dual-filter element and is designed to compensate for extremely dusty environments! When it comes to suspension, Ram 1500 TRX was engineered with a special system with active damping that incorporates forged aluminum front lower and upper control arms, paying special attention to caster and camber angles during suspension cycling.
Drive modes of the TRX
There are five different dynamic drive-modes distinguished by performance-tuned software to keep the TRX outperforming all other trucks: Auto, Sport, Tow, Snow, and Custom.  Drivers are able to choose which mode suits their needs for whatever condition they are driving in, and the drive modes will separately control the FWD system, throttle response, transmission, paddle shifters, suspension, and electric power steering.  In any mode you choose, the active slip control will prevent binding and extra slip from front to rear. Because not all driving conditions fall under a single category, Ram has included a custom driving mode wherein a driver can personalize the TRX's performance to specifically meet their unique needs.  But wait, there's more! For off-roading, the TRX features three specialized modes- Mud/Sand, Rock, and Baja.  Whichever terrain you're barreling across, choose the setting that suits you and the Ram will do the rest!
Interior Design and Features
You have the option of three different premium interiors for the 2021 Ram TRX: premium cloth and vinyl, a premium wrapped leather and suede, or premium wrapped leather and suede with available red and carbon fiber accents. For an elevated luxury when driving, Ram TRX features new front seats with an enhanced upper bolster. For better handling, comfort, and control the Ram TRX is equipped with a new SRT-signature flat-bottom steering wheel. It is outfitted with enhanced hand grips wrapped in leather and was designed, like most available options on the TRX, with performance driving in mind. Everyone experiences comfort in a different way, which is why the new aluminum paddle shifters stretch above and below the steering wheel spokes, giving the driver full access to all gears at their fingertips.  The Head-Up Display is available in the TR2 equipment group and has the ability to show up to five different pieces of information at once, such as Lane Keep Assist, adaptive cruise control, Lane Departure, current speed, and current gear and speed limit.
Get your all-new Ram 1500 TRX at Martin CDJR
Looking to trade-in your old pick-up for the all-new Ram 1500 TRX? You're not alone! Everyone wants to be driving the toughest and most capable truck on the road which is why we here at Martin CDJR have a full stock of Ram trucks to suit all of your performance needs! And that includes the Ram 1500 TRX! So come to Martin CDJR in Cleveland TX to test drive your next Ram, and drive off the lot in the most durable and capable truck around! After a test drive, you'll see why the Ram 1500 is America's most loyal half-ton pick-up! Can't make it in? Check us out online or call to schedule an appointment!